Build Breakdown: 2019 RAM 2500
February 5, 2021

Since so many of you enjoyed our last Build Breakdown, we decided to bring it back. Today's Build Breakdown is on a 2019 RAM 2500 running our ARKON OFF-ROAD Caesar wheel, some 35x13.5R24 AMP Mud-Terrian Attack MT A tires, and a 3.5-inch lift kit.
Recommended Fitment Information:
- Diameter: 18" to 24"
- Width: 8" to 10"
- Offset: -10mm to +35mm
- Bolt Pattern: 8x6.5" (8x165.1mm)
Parts Breakdown:
The featured wheels on this build are the ARKON OFF-ROAD Caesars. The Caesar is a Proper Directional wheel, otherwise known as a "True Directional" wheel.
This means that when the wheels are mounted onto a vehicle, they will all be facing and turning the same way, unlike most wheels where they look as if they are spinning in opposite directions.
The Proper Directional wheel design is usually only found on forged wheels, however, we've designed this luxury feature on our notorious Caesar wheel. The Caesar is a multi-spoke, one-piece, alloy wheel with exposed lug nuts.
Caesar is available in 20-24 inch diameters, 10-14 inch widths, and -25, -51, and -81 offsets with multiple bolt pattern options to fit a variety of trucks. The Caesar is available in the milled black finish or a classic chrome finish.
This 2019 Dodge Ram 2500 is running the AMP Mud-Terrain Attack MT A tire. The tire size for this truck is 35x13.5's. AMP tires are known for their high-traction capabilities and their ability to be used on and off the road.
These specific tires from AMP are designed to perform in the most extreme conditions and have excellent grip in mud, rock, sand, and snow. Fun fact: these tire's sidewalls are reinforced with their "A" logo lug design to provide an even better grip in extreme conditions.
Tire Specs:
- Price: Starting at $1016
- Load Range: E
- Speed Index: Q
- Tire Type: Mud Terrian
- Warranty: Full Manufacturer Warranty
The suspension that this Ram 2500 is riding on is a 3.5-inch lift kit. The 3.5-inch suspension lift kit gives this Ram 2500 enough height to fit a larger and wider wheel and tire set up it's running.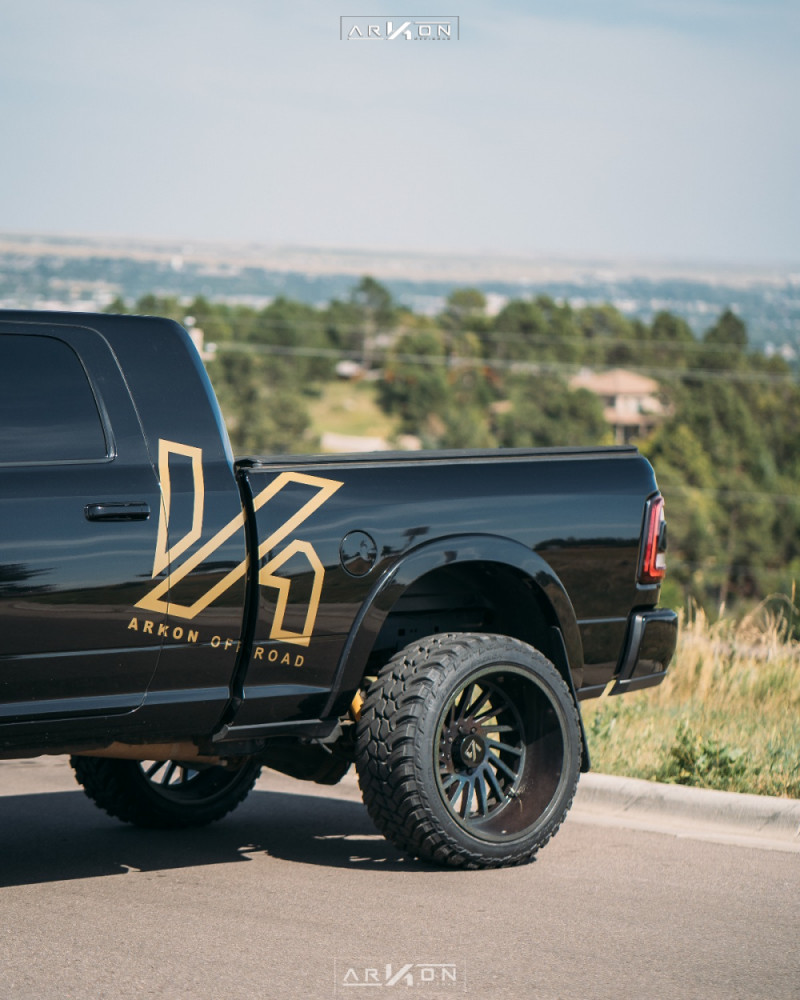 Depending on your build style and the size of wheels and tires you want to run, you may want to go for a shorter or taller lift kit. Lift kit sizes range from a 2-inch lift to an 18-inch, but the most common sizes are a 3-inch lift, similar to what this build is running, and a 6-inch lift.
What do you think of this build? Let us know in the comments below. If you liked this Build Breakdown, make sure to check out our last Build Breakdown.