Most Popular ARKON OFF-ROAD Wheels
August 21, 2020
Today we will be running through our most popular wheels, these are our best sellers as well as our personal favorites. These are the best wheels in the business and are sure to make your next truck build something special.
1. Lincoln
The Lincoln is not only our top seller here at ARKON OFF-ROAD, but it has also been one of the top 5 wheels overall in 2019 and 2020. There is a reason that this wheel is so iconic in the wheel community. This wheel is a Proper Directional (also known as true directional) this means that the wheel on both sides of the car will tip the same way. With non-Proper Directional wheels on one side of the vehicle, the wheel will dip ( when the spokes angle towards the front of the vehicle) and one side will swoop ( when the spokes angle towards the back of the vehicle). With a Proper Directional, when the wheels are put on the vehicle, they will all either swoop or dip. This gives the vehicle a smooth and clean look. This is usually only available for a forged wheel. At ARKON OFF-ROAD, we have made this feature available in a cast wheel. You can get the look, feel, and style of a forged wheel while not spending an arm and a leg and without compromising on quality.
The Lincoln features 8 beautiful thick spokes. It is a one-piece, alloy wheel with exposed lug nuts and a 5.33-inch lip. It is available in 20-26 inch diameters giving your vehicle a show look. The Lincoln is available in many different offsets and bolt patterns as well along with those sizes, making it an option for many different vehicles. The most popular finish is chrome but it is also available in a gloss black with milled spoke edges finish as well. This wheel will be perfect for any truck build and that is why it is so popular. Check out the Lincoln in our gallery.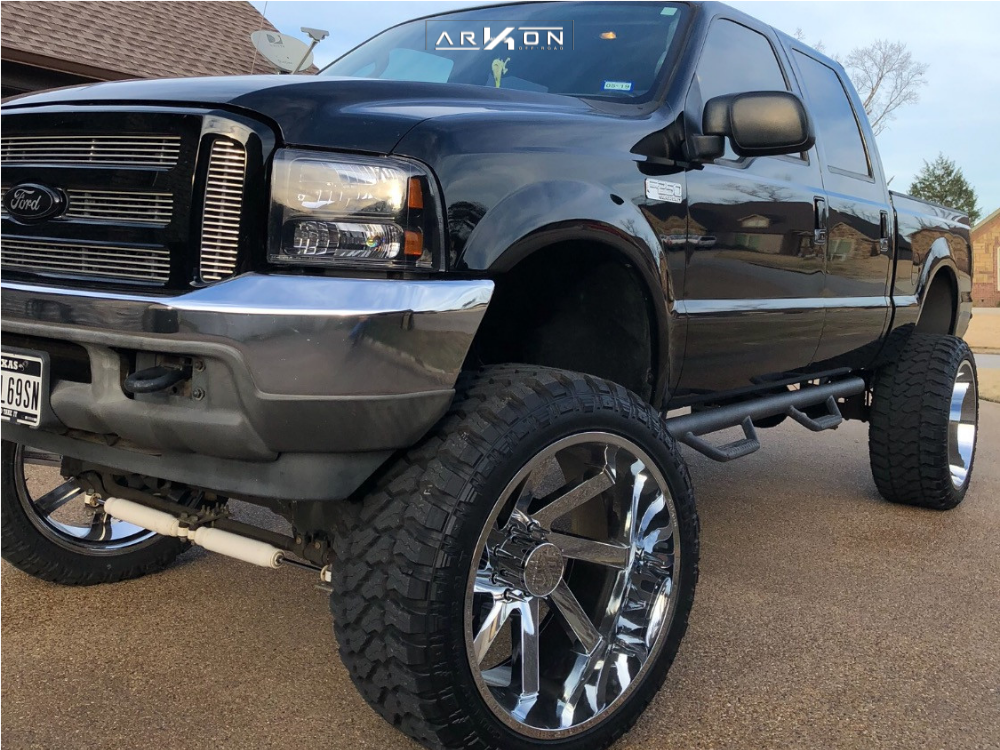 2. Caesar
The Caesar is also quite the renowned wheel in the truck community. Again, with good reason. Our only goal is to give you the best possible quality, and the best possible look at the best possible price. Getting the luxury look and feel of a forged wheel at a price that you can afford without losing any of the quality is something you can only get at ARKON OFF-ROAD and we pride ourselves on that. The Caesar is again, a Proper Directional wheel (explained above). The Caesar is a multi-spoke, one-piece, alloy wheel. Again, the most popular finish is the chrome seen here but it is also available in the black milled finish. The Caesar is available in 20-24 diameters and -25, -51 and -81 mm offsets as well as many different bolt patterns so it too will be able to fit a multitude of vehicles. Check out the Caesar in our gallery.
3. Roosevelt
Finally, last but certainly not least, comes the Roosevelt. The Roosevelt is most popular in the black milled finish seen here but it is also available in chrome. It is a 6 spoke one-piece, alloy wheel with exposed lug nuts. It has a really unique design that is sure to stand out. It has been seen on Toyota Tacoma's, Chevrolet Silverado's, and many other vehicles. You can check them out in our gallery. The Roosevelt is available in 20-24 inch diameters and -25, -51, and -81 offsets as well a many different bolt patterns.
As always on our site we make it easy for you to find the correct fit for your truck, just insert the year, make, model, and drive/ trim of your vehicle on our home page or on the left side of your screen in the search by vehicle section as you shop. Also, whenever you buy a wheel and tire package you can save money on that bundle, and you will get free mount and balance along with free shipping. On top of all of that, we always have our No Questions Asked Replacement Plan, because we are so confident in the quality of our wheels and we want you to only have the best.